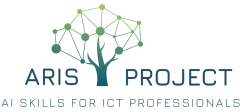 Topic/ Area
Artificial Intelligence for ICT Professionals

Date released
01-09-2019 - 28-02-2022
Package of Training and Assessment Materials in Artificial Intelligence 
BUSINESS TRAINING SA (Belgium) – Project coordinator/Lead partner
UNIVERSITAT POLITECNICA DE CATALUNYA (Spain) CONSIGLIO NAZIONALE DELLE RICERCHE (Italy) LIKS (Lithuania)
EXELIA E.E. (Greece)
Description of the methods/ approach
An online survey was conducted with 194 individuals who with experience in AI technology and computing innovations filled in the online questionnaire.
The online survey was focused on the most needed field knowledge and the most important skills to work as AI professional.
The main purpose of the project is to design a comprehensive and up-to-date training course in AI technologies and practical applications in order to empower ICT professionals with initiative, entrepreneurship & updated digital skills required in the workplace.
Also, the project aims to introduce modern training delivery methods and innovative open-access pedagogical resources, enabling learners to acquire and self-assess ΑΙ related skills, including VET providers resources & techniques to integrate into their training offerings. Moreover, another goal of the project is to facilitate the integration of AI skills requirements into the EU certification and standardization schemes.
Evaluation (results) of its effectiveness
The project is ongoing, so there is no conclusive evidence on its effectiveness.
Overview of the lessons learned which are relevant to the project
The results from the online survey conducted for the needs of the project have shown that the five most needed field knowledge for working on artificial intelligence and related services are, in decreasing order:  Machine Learning Algorithms,
Programming languages for Artificial Intelligence (e.g., Python, Java, LISP, C++, Prolog), Data mining concepts and techniques, Probability and Statistics
Ethical, legal and social implications of Artificial Intelligence. Also, according to the survey the most important skills to work as ICT Professional are the application of concepts of machine learning in real life problems, development of machine learning models, identification of patterns in data and creation of artificial neural networks.